CD*NY Playford Ball 2020
The Country Dance*New York Playford Ball will be held on Saturday, April 18, 2020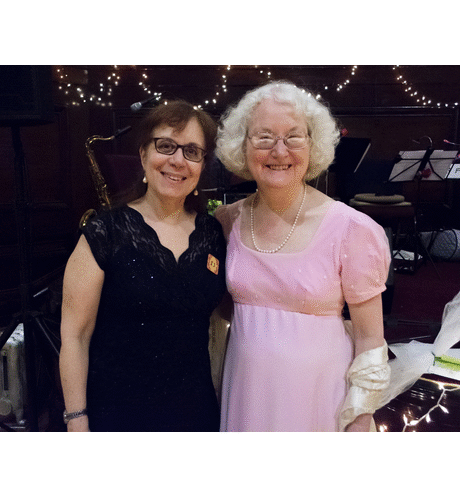 Gene Murrow and Helen White, our Master and Mistress of Ceremonies, have crafted a program of classics from the past three centuries. A list of these dances, including links to videos of some of them, can be viewed below.
Trio Picante composed of Daniel Beerbohm (woodwinds), Kate Barnes (piano), and Mary Lea (violin) will provide music during the evening, while Cynthia Shaw (piano) will play for our afternoon walk-through.
For the fifth consecutive year, the Ball will be held at Good-Shepherd Faith Presbyterian Church, on New York's Upper West Side:
Dance instructions now available here.
The afternoon review session runs 2:00-4:00 PM, followed by a break for dinner. The Ball starts at 7:00 PM and ends at 11:00 PM.
Restaurant list here, New for 2020! — Remember to include our out of town friends for dinner.
Registration — using this flier  — is required. Admission is $40 per dancer (or $22 for full-time students). If you regularly participate in and enjoy the Ball, please consider making a contribution to the Playford Ball Fund. Registration charges don't cover the total expense of the Ball.
If you have questions, please contact this year's Ball Chair, Ricki Ravitts: rgravitts@yahoo.com.
This year, we will have five preparatory sessions for nearby dancers to learn the Ball repertoire:Three Tuesdays: March 31, April 7, April 14, from 7:00 to 10:00 pm and Two Fridays: March 13 & 27 from 7:00 to 10:00 pm. These sessions will be held at the CD*NY's regular venue: Church of the Village, 201 West 13th Street, New York, NY.
List of Dances
Apley House
Beautious Grove
Braes of Dornoch
Elephants Stairs
Heidenröslein*
The Homecoming
Jacob Hall's Jig
The Leap of Faith
Measured Obsession*
Mike's Health
Moonflower
Muriel's Measure
Never Love Thee More
Rich Delights
Sally in Our Alley
Scotch Cap
Siege of Limerick
Sir Watkin's Jig
Ties of Love
Trip to Kilburn
Wooing Mairi
*For Those Who Know
Preparation Classes
Three Tuesdays: March 31, April 7, April 14, from 7:00 to 10:00 pm
Two Fridays: March 13 & 27 from 7:00 to 10:00 pm
Schedule of Dances for Preparation Sessions
March 13, 2020
Apley House
Beautious Grove
Braes of Dornoch
The Homecoming
Jacob Hall's Jig
Measured Obsession*
Moonflower
Muriel's Measure
Never Love Thee More
Sally in Our Alley
Ties of Love
Wooing Mairi
March 27, 2020
Beautious Grove
Elephant Stairs
Heidenröslein*
The Leap of Faith
Measured Obsession*
Mike's Health
Rich Delights
Scotch Cap
Siege of Limerick
Sir Watkin's Jig
Trip to Kilburn
March 31, 2020
Braes of Dornoch
Elephant Stairs
Heidenröslein*
The Homecoming
Mike's Health
Muriel's Measure
Sally in Our Alley
Ties of Love
April 7, 2020
Apley House
Beautious Grove
Jacob Hall's Jig
The Leap of Faith
Measured Obsession*
Moonflower
Never Love Thee More
Rich Delights
Scotch Cap
Siege of Limerick
Sir Watkin's Jig
Wooing Mairi
April 14, 2020
Beautious Grove
Braes of Dornoch
Elephant Stairs
Heidenröslein*
The Homecoming
The Leap of Faith
Measured Obsession*
Mike's Health
Muriel's Measure
Rich Delights
Sally in Our Alley
Scotch Cap
Siege of Limerick
Ties of Love
Trip to Kilburn