CDNY At Play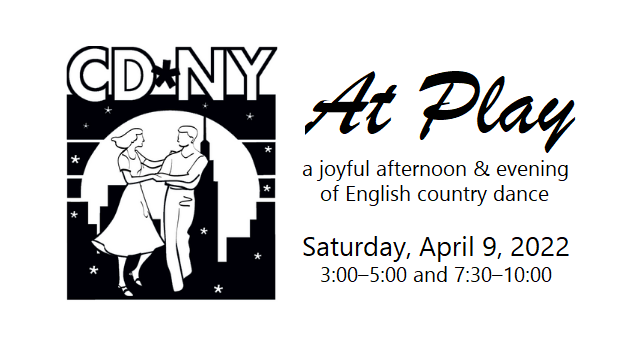 Dance leaders:    Gene Murrow and Helen White

Music by:    Cynthia Shaw, keyboard, Naomi Morse, violin, Danny Elias, clarinet

Location:    Good Shepherd-Faith Presbyterian Church, 152 W 66th St.

Times: 3:00 – 5:00    Afternoon dance party

7:30 – 10:00    Evening dance party

Admission:    $40. This covers the afternoon and evening dances. It is the same price whether you attend one or both sessions.
Normally this special event would be our annual Playford Ball. This year, CD*NY At Play will feature a program of familiar dances with an afternoon session and an evening session. There will be no changing rooms and (alas) no refreshments.Vaccinations and well-fitting masks are required. Preregistration is required. Register through this online form.
We encourage registrants to self-test for Covid the day before or day of the event. If you test positive or feel unwell, do not attend. Your payment will be refunded.
We will refund admission fees if the event must be cancelled.
We will hold checks until after the event date to facilitate refunds.